Beaverbrook Spa and Glass house cottages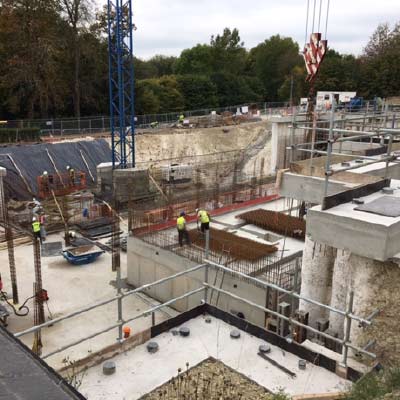 Scope of works: Work on this area included concreting, installation of new drainage, and landscaping works. This also included the logistic package, this meant ensuring all Health and Safety was adhered to on the site, cleaning was up to standards, and taking care of site welfare.
Delivery targets: The project was completed in the 52 weeks target using 20 operatives
Innovation: A big part of the project we completed was the Health spa – beauty treatment rooms. The clients we worked closely with was Rise Management, through completing this project with efficiencies and cost savings, enabled us to win further work on site. We saved costs to the client by proving alternative products, with the same standards of quality.
Beaverbrook – Logistics package
Tom Bagley Groundworks were awarded the Logistics package; this was built to assist the client in finishing the project. This package consists of supplying some workforce; managers, cleaners, security guards and a waste management system as well as consumables to facilitate the 'smooth running' of the remaining works. We also supplied all the fire safety equipment and provided a lifting system to accommodate all deliveries to and from site. We ensured site was kept clean tidy always and the correct safety procedures were being followed at all times.
We are still on site completing these duties and are contracted to be so until the end of the construction package in six – eight months' time.