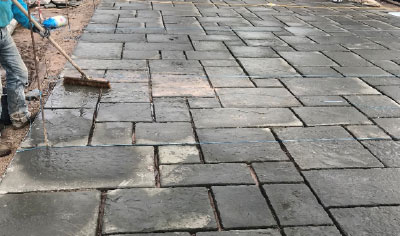 Scope of works: This project was undertaken for a new contractor and involved installing 400m2 of new paving, installation of kerbing and the installation of a new drainage and ducting system. We also supplied a new concrete slab for the bin store and installed planter beds. Finally, we scraped the yard and in road clear and supplied a stone bed to leave a tidy finish. All works have been completed within budget and on time.
Delivery targets: We have been working on Smokers Inn for 7 weeks, with 5 operatives.
Key challenges: We had strict deadlines to meet as there was a lot of work to be completed in a short space of time, due to weather we were concerned that the job may be delayed. We therefore committed more labour to the job, operatives have also been working weekends to ensure deadlines were met.
We also ensured timely deliveries of materials to site were made. We didn't want our deliveries to clash with the roofing contractors, which are also working on this site.