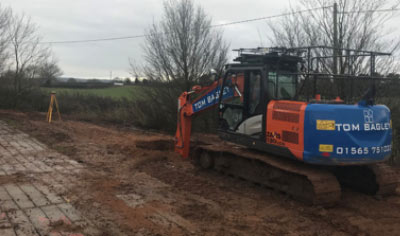 Scope of works: This job consisted of the installation of a new pumping station as the old station had become faulty due to over use. The works comprised of excavation to levels (safely using a trench box) and the supply of a concrete base and surround to the tank. We also installed the outfall drain to a new gravel soakaway on site and new ducting across the carpark to allow the tank to be commissioned.
Delivery targets: TT Pumps, Crewe was a 4 weeks project, which 2 of our skilled operatives worked on. This job had to be completed ensuring no disruption to the office staff, as works being completed was on an office site.
Key challenges: Ground conditions were not as planned, we had to ensure we used a trench box, so work was completed safely. Support systems were used whilst exaction works were carried out.
Innovation: As the client was satisfied with our excellent workmanship, they requested us to carry out further works that was not on our original quote. Tom Bagley Groundworks created new parking spaces on site, which extended the project to 5 weeks.